Sports and MUGA Pitches
Bernhard's Sports Surfaces have over 30 years of experience in the design and installation of MUGA pitches to the very highest standards. Extensive managerial expertise and long serving directly employed site teams combine to deliver facilities to meet the demanding requirements of the International Hockey Federation, England Hockey, FIFA, The FA, IRB and all other relevant standards.
We are able to offer a vast portfolio of sport surface solutions to complement our site specific designs for the pitch base, fencing, floodlighting and related infrastructure.
Our range of pitches includes the following:
We take great pride in the excellent quality of our synthetic sports pitch installations and have been producing facilities with both synthetic and natural turf surfaces for many satisfied customers for a number of years. Our client base is wide and varied but all have a common requirement - a quality, hard working facility for rugby, football, hockey or multi-use.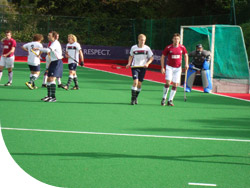 Each start requires specific performance characteristics from the surface to help produce the correct ball speed, ball bounce and a safe environment for the players.
Every facility we construct is developed with your requirements in mind to ensure you have the pitch with the surface most suited to your needs. All sports pitches are ideal for 5-a-side and 6-a-side football, hockey and many more sports.
During the design stage, we strongly recommend some visits to a selection of previous Bernhard's developments to help you understand our design rationale and ensure you make informed decisions for your new facility.