Athletic Tracks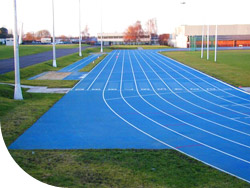 Today's modern training programs require long hours of intense repetitive training on the track. To prevent stress injury, a sports track surface needs to perform evenly in order to properly absorb and return energy. A athletics track surface also needs to have consistent response to allow athletes to execute relaxed high-speed training.
For over thirty years we have been involved in the construction or renovation of many athletics tracks and facilities, all to the demanding requirements of the International Association of Athletics Federation (IAAF) and UK Athletics (UKA).
Porous Polymeric Tracks
The most cost effective system, this type of sports track is widely used throughout the UK for many track and field events. This surface consists of a bound rubber granule base mat with a spray applied structural surface of polyurethane and coloured EPDM.
Whilst not as hardwearing as other surfaces, the initial costs are less and a re-application of the sprayed surface will economically prolong the surface lifespan.
Full PU Polymeric Tracks
An impervious surface generally specified for tracks where a high level of competition is required. The base mat is a flood coat of two part polyurethane and rubber granule matrix cast in situ. The surface flow coat is a layer of polyurethane with coloured EPDM granules cast into the uncured surface.
This provides a solid, hardwearing surface.
Polymeric Sandwich Tracks
This is a hybrid system combining the low cost bound rubber granule base mat found in the Porous Track with the surface flow coat of the full PU Track.
This provides and impervious system with the same performance characteristics as the Full PU system at a cost saving.
Prefabricated System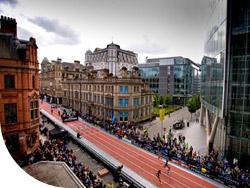 This system consists of prefabricated synthetic rubber matting manufactured in a factory environment to offer an even thickness and controlled performance characteristics. Supplied in rolls, the mat is adhered to the base macadam to provide an impervious system. As the surfacing is a set thickness the base macadam needs to be constructed to a very fine tolerance in order to achieve the latest flatness requirements.
This surface has been used extensively in the Olympic Games over many years and is to be used in the forthcoming London 2012 Games.
Athletic installations include:
| | |
| --- | --- |
| Glasgow City Games | 2014 |
| Manchester City Games | 2014 |
| London Anniversary Games | 2013 & 2014 |
| The Great North Run | Annually |
| Aldershot Military Stadium | 2011 |
| Bedford Athletic Stadium | 2009 |
| Northumbria University | 2009 |
| Scotstoun Stadium | 2009 |
| Bisham Abbey | 2008 |
| Newham Leisure Centre | 2007 |
| Woodside School, Wood Green | 2007 |
| National Indoor Arena, Birmingham | 2006 |